It is actually embarrassing how excited I get about The BRIT Awards and I spend the entire week before freaking out about it, as anyone who had to put up with my hardcore Fangirl Tweets on the night of the ceremony will know.
Many of the people who I look up to in life always either attend the BRITs, perform, are nominated or win awards so, naturally, I'm going to freak out about them, right from the moment the red carpet starts and we get to see what everyone is wearing until the moment I go to sleep, and even then I am unable to switch off as the evening's shenanigans are still buzzing around in my head.
This year in particular was on a whole new level. Some of the biggest stars gave mind blowing performances, such as Justin Bieber, Rihanna, Adele and Little Mix (who's performance I still watch at least fifty three times every day). The awards themselves were also given out to some of the most deserving recipients and, of course, the night was filled with some of the best British humour. I always watch the BRITs thinking, I wonder if people from other countries think we are absolutely barking mad?!
Like with any big musical event, the fashion is always the hottest topic in the media the next day and is something which Fangirls and Fanboys on social media have several heart attacks over when they see their favourites turn up in a dazzling dress or sophisticated suit. So, naturally, there had to be a blog post on it, as you know I love doing these types of posts.
Below are some of my favourite looks from the night, although I think everyone really pulled out all of the stops this year.
Adele
Not only did she take home to most trophies and delivered a breathtaking performance, but Adele totally knew what she was doing on that red carpet too. She steered clear of her usual. long, black gowns and went for a burgundy dress and matching lip. which only left me wondering why on Earth she doesn't wear this colour more often! Adele looked sophisticated, beautiful and like someone who was about to have a successful night. The light-weight Giambattista Valli ruffles and her perfectly styled bob gave her look a more modern, bohemian feel.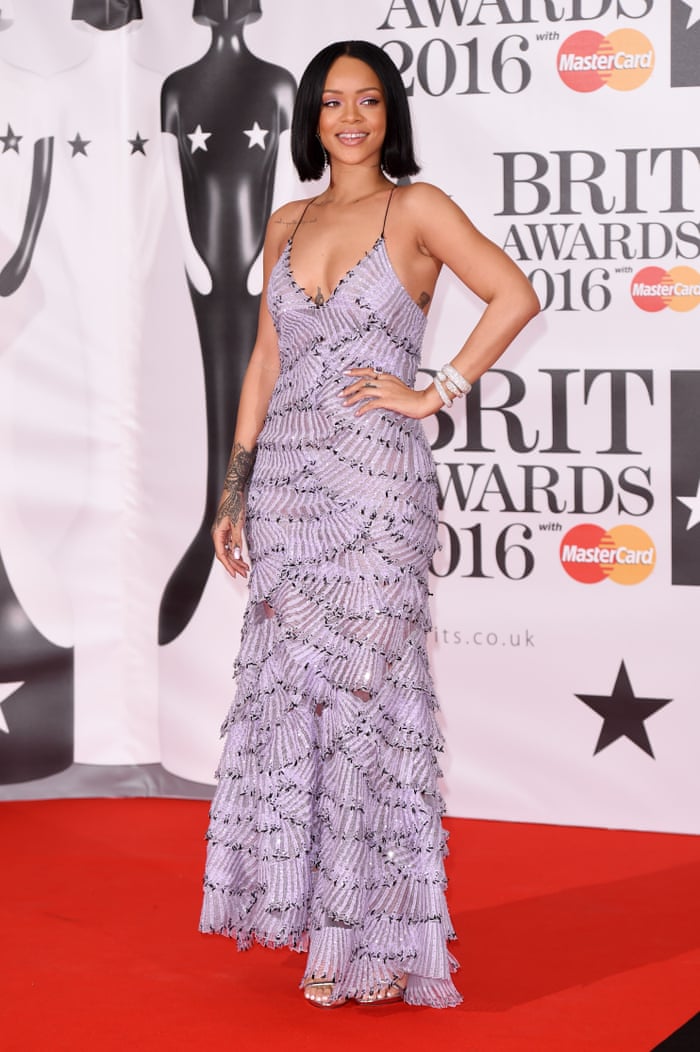 Rihanna always slays so it was no surprise when she turned up looking hotter than a hotdog on the red carpet. Her lilac Giorgio Armani gown made her a ladylike vision, floating across the carpet with her glistening Asprey jewels and her complimentary purple eyeshadow brought the whole thing together. The low neckline and spaghetti straps were very Rihanna and her tame but beautiful hair ensured the whole focus was on the gown.
Little Mix
OHH Little Mix, where does one even start? No words can express the pride that I felt for these four inspirational ladies throughout that night, they utterly owned the night with their fierce performance and my heart wanted to burst when I discovered that the four girls I have watched grow up over the last four years were nominated in two categories. My heart also wanted to burst when I saw how insane they looked on the red carpet!
The girls went for a metallic and white colour scheme but still showcased their individual styles. Jade glittered like a golden Greek Goddess in her gown, Perrie's look was the most casual of them all, going for the androgynous look in a sophisticated pair of white trousers but keeping it feminine in a lace bralet, Leigh Anne unleashed her fashionista in a perfectly self-crafted, metallic, ensemble which showed off her amazing figure, but kept to her funky roots with green braids, and Jesy gave everyone a heart attack in the most beautiful white dress as fans across the world suddenly began to imagine just how amazing she is going to look in her wedding dress.
My favourite look out of all four of the girls was definitely Jesy's, whose was yours?
Jess Glynne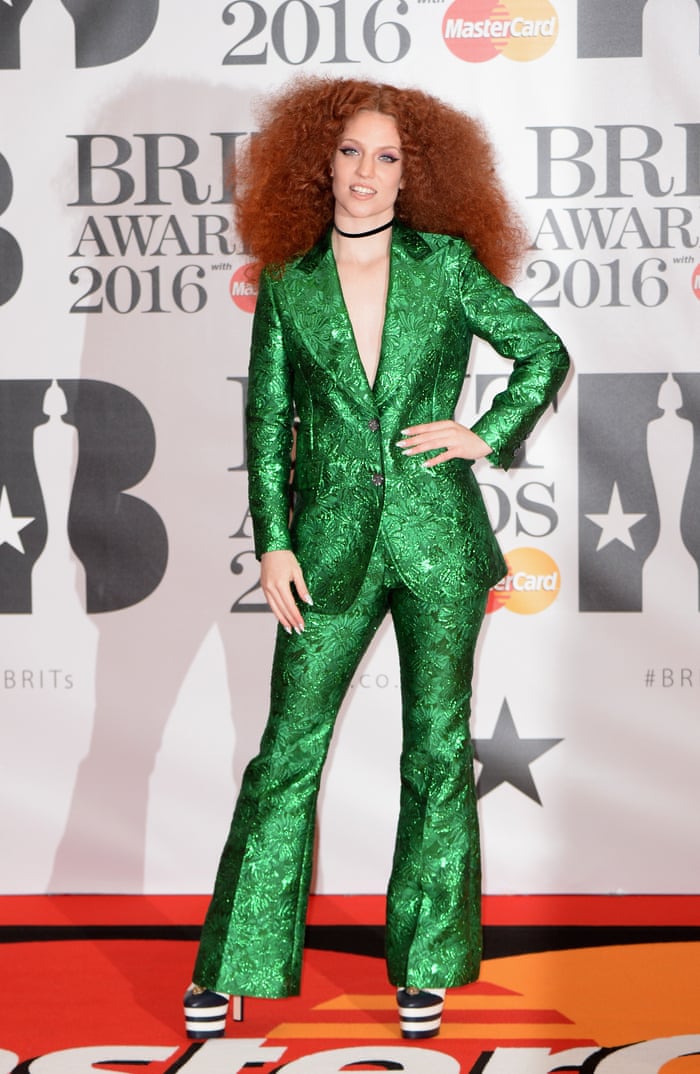 Jess' look has recieved mixed reviews but, personally, I think she absolutely rocked it! I wish I was brave enough to pull off such a daring colour - Jess certainly left me green with envy (pardon the pun). She was another lady who went for the androgynous look but kept it girly in a low cut jacket and a pair of shoes which I think are the true definition of killer heels! Also, I think Miss Glynne has the best hair in the music industry, oh how I wish mine was as fierce!
Cheryl
This may be just me, but my inner Girls Aloud Fangirl was unleashed when I saw Cheryl's dress as it reminded me of something she would have wore on stage with the girls, it definitely gives off 'I Can't Speak French' music video vibes! Cheryl looked every inch the Disney Princess in her lace gown and wavy hair with delicate jewels to accessorise. In my opinion, she never gets it wrong and is one of those people who could look good in a paper bag, but she looked completely glowing that evening and her baby-doll style dress was definitely up there with my favourites!
Florence Welch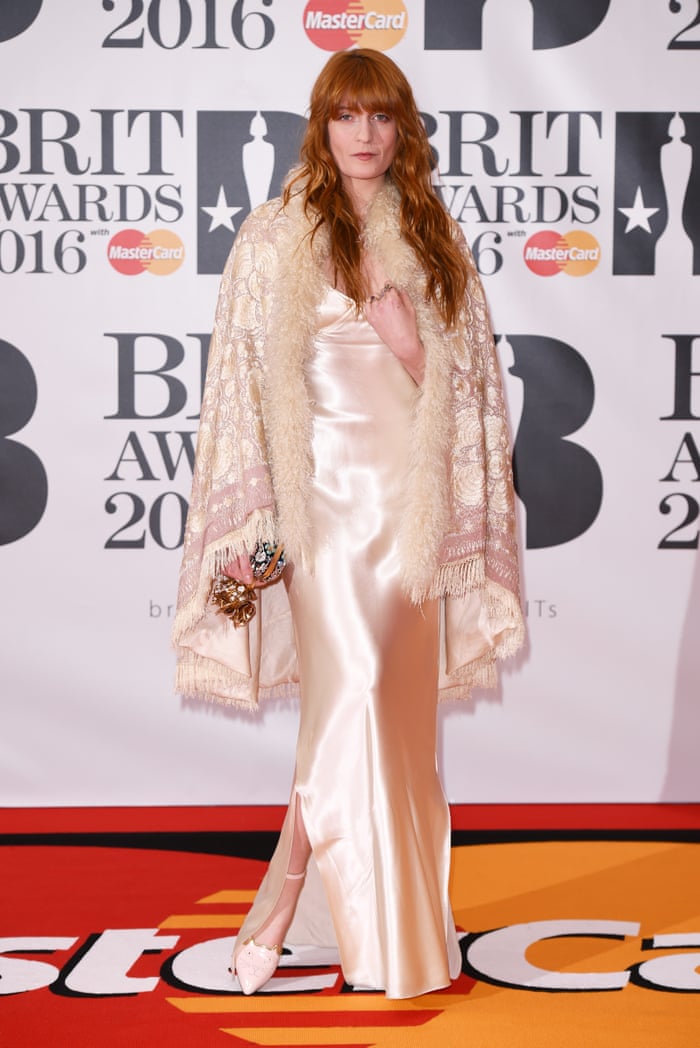 Florence's fair hair and skin are things that I envy on a daily basis. She was on trend at this year's ceremony with a silky slip dress from Calvin Klein and keep her colours very neutral, which complimented her perfectly. She also added an embroidered cape to keep her from the cold but still looked every inch the lady.
Laura Whitmore
Laura hosts many red carpet events like this one and so there is always pressure for her to deliver outfit wise, but she never fails to do so. I love her sense of style anyway, however, this black mini-dress consisting of feathers and netting was just something else! She brought some rock and roll vibes to the carpet with her black attire and smoky eye but still looked classy and party ready! Also, do you reckon she will swap legs with me if I ask nicely?
The BRIT Awards are one of many events which always make me feel very proud to be British. This year's were amazing and, I don't know about you, but I'm already looking forward to February 2017!
Congratulations to all of the amazing performers and award winners.
Who do you think was 'best dressed' this year? <3
Love, Emily :) xx