Okay, I'll admit it, I'm still not over Monday's GRAMMYs awards ceremony! The hair. The dresses. The suits. The make-up. The awards. The performances. Everything was perfection, don't you agree? My camera roll is now bursting with photos from the night and I needed a space to unleash my fangirl (if I didn't already do that enough on Twitter) about everything that happened, so that's what this post is going to be!
The GRAMMYs are always an exciting time, especially when the line-up of performers and nominees are revealed and you spend weeks before, praying that your favourites will win and getting sleepless nights due to the fact that you want to wet yourself because your Kings and Queens are performing.
I stayed up to watch the start of the ceremony (damn you time differences!) and the whole build up on the night was so exciting! You can't even describe the feeling of knowing the red carpet to a big awards show has started and you're dying whilst waiting for photos of your idols. At first, you have to put up with a few low quality snaps, which only adds to the stress, and then, finally, you are blessed with HQ videos and photographs, sending you into an early grave.
One thing I, personally, couldn't wait for were the performances! With the line-up including stars such as Taylor Swift, Demi Lovato and Justin Bieber, you just knew it was going to be epic. I also couldn't wait to see who won what and was beyond overjoyed when some of my absolute favourite humans were awarded with trophies. One lady in particular, Taylor Swift, went home with three gongs and her performance was one of my favourites (along with Demi's) as I don't think I have ever heard such musical magic.
Now, one thing which we simply must discuss is the red carpet outfits from the Grammys 2016. Its probably the thing people pay most attention to, more so than the awards themselves, and there sure were some show-stoppers this time around! I thought I would talk you through some of my favourite looks so we can fangirl together over the beauty of our favourite celebrities! ENJOY! :)
Selena Gomez & Taylor Swift
These two beautiful ladies came as a pair so, naturally, they shall be featured as a pair in this blog post. Taylor and Selena were each others dates for the night and were by far my best dressed, although saying that, I think we can all agree that they could turn up in trash cans and look beyond hot. I definitely spent far too much of my Monday night completely DYING over the red carpet photos of them and definitely shed a tear (or ten) at their cute hugs and Selena mouthing "That's my best friend!" to the camera when Taylor went on stage to accept her award.
Selena's blue Calvin Klein dress suited her perfectly and was certainly a Grammys dress. The cut out sides and low neckline showed a little more skin and the fabric showcased her amazing figure. She kept the accessories simple with a pair of silver earings and went for a dark eye and nude lip, keeping all focus on the dress which I can imagine shone like a glitterball down the carpet. Her hair was also something that left me jealous as her long curls cascaded beautifully down her back. Selena never gets it wrong in my eyes.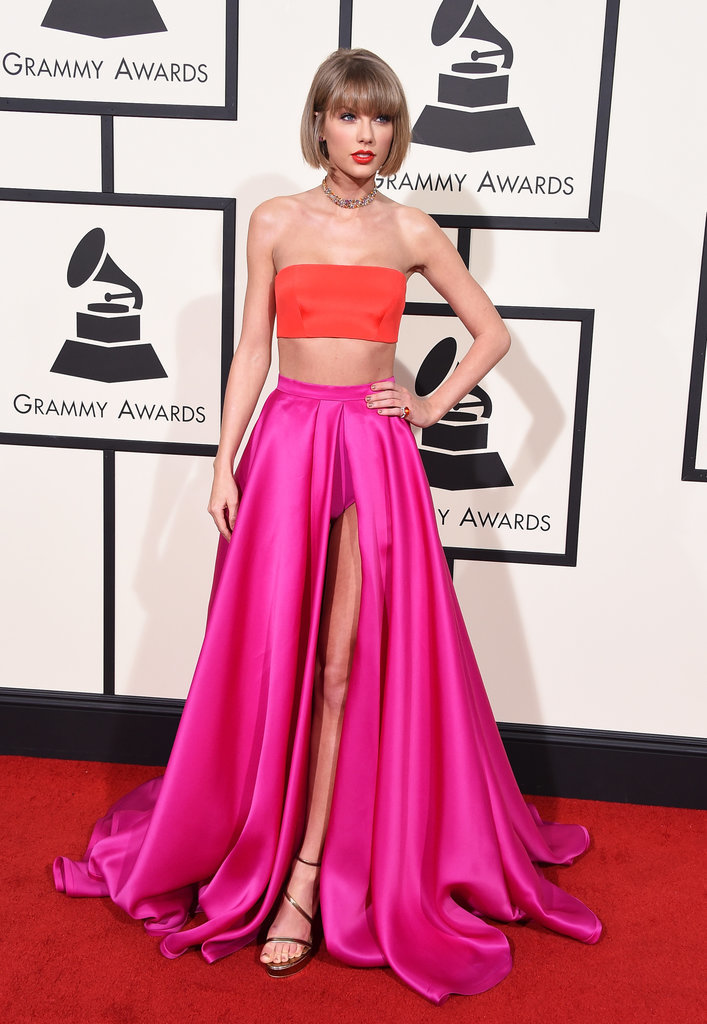 Another lady who can do no wrong is Miss Swift herself. If I told you I was going to wear orange and pink to a Grammys red carpet, you would probably laugh and tell me not to be so stupid. however, making orange and pink work was no chore for Taylor, oh no. She embraced the clashing colours and showed off her perfectly toned abs in the process. We know Taylor loves two things. 1) wearing crop tops and 2) getting her legs out, both of which she did at the Grammys. Her outfit was unlike anyone else's and she stood out for all the right reasons. Taylor also took the Grammys as an opportunity to debut her Anna Wintour style bob haircut and I for one could not be more obsessed with it. Don't you think its like a mixture between her 'Red' era hair with the full fringe and her '1989' era hair with the length?
Adele
She has the voice of an Angel but also the style of an Angel too. We know Adele loves wearing black but its a colour which always works for her and she never fails to look anything but sophisticated. Her long gown flattered her shape and the sequins added a hint of fun into a dark outfit. Long, black frocks seem to have become Adele's signature thing but, personally, I think she owns them every single time! I was also a massive fan of her natural-looking make-up as she never tries to go too OTT.

Demi Lovato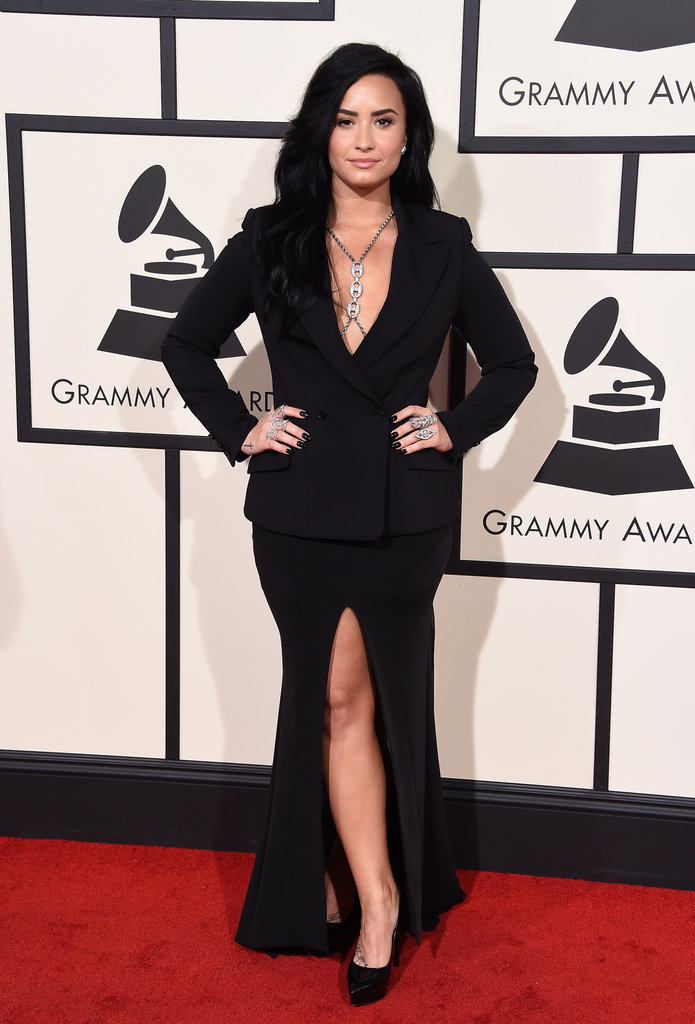 Demi Lovato also unleashed her Gothic side at the Grammys this year but still looked fierce, Her tuxedo style jacket added a more masculine vibe yet she kept it feminine with a skirt and showed a bit of leg through the high split. She went in heavy on chunky silver accessories and kept her shoes matching too. I was also a massive fan of Demi's hair (which always looks amazing) and make-up - don't her eyebrows always look incredible? Demi kept it classy on the red carpet!
Justin Bieber
Not only did Justin look handsome and smart in his suit, but he also brought the cute factor to this year's red carpet by posing with his adorable little brother, who was a total 'mini me' and looked very grown up in his tux and styled hair. I think Justin always looks really well put together and he is certainly a guy who knows who he is style-wise. I loved his white jacket, which gave off a more mature vibe yet liked how he still showed his youth with his comfortable shoes and stripe down his trouser leg.
Ciara
Now, we all know Ciara is a mega babe but, just in case you had any doubts, she certainly cleared those up on Monday. Her dress was unique but wasn't too crazy. The halter neck spaghetti straps, low neckline and high split in the leg showed off her glowing skin, amazing figure and proved why so many of us crush on her. The silk black and silver patterned fabric worked well together and her hair and make-up were kept very natural, her hair almost looked as if she had just shoved it up two minutes before getting out of the car but it looked amazing! There is no denying that Ciara is and her boyfriend looked HOT on the red carpet!
Ariana Grande
Ariana stunned, as per usual, at this year's Grammys in a beautiful red gown. It was classic yet she kept it trendy with the neckline and buttons down the front. She also went for a dark, smoky eye, which others tended to stay away from, but it totally worked. Plus, she worked her signature ponytail and her silver jewellery definitely sparkled. Ariana looked like a true lady, don't you think?
Meghan Trainor
Former blonde Meghan Trainor showcased her new brunette locks at this year's ceremony and, I have to say, I am totally in LOVE with them! I thought her blonde hair was beautiful but seeing her with brown has just increased my girl crush on her! She looked mature and sophisticated on the carpet with her curls and black sequin gown which I can only imagine looked amazing in person. Her hair and dress showed a much more grown up side to Meghan, but she still kept it fun with holographic shoes.
Tori Kelly
Tori certainly left me green with envy (pardon the pun, I'm just too hilarious) on Monday night. She went for a bold colour but totally shone on that carpet! The long, pleated fabric swept across the carpet and made Tori look like a princess. I always love her hair but she tamed her curls slightly on the night and brought them over to one side for a more chic look. Her silver accessories finished the outfit of perfectly!
Ellie Goulding
A lot of people raved about Ellie's look on the night and it is no surprise why! She looked like a real Princess, pastel pink is definitely her colour and it complements her beautiful blonde hair perfectly, which was effortlessly tossed over to one side - I wish my hair looked that good! It seems spaghetti straps and low necklines were a big trend this year and Ellie wore it well. She kept her make-up neutral with a natural pink lip and looked every inch the Angel.
Congratulations to all of this year's winners and performers, all awards were very well deserved and the performances were fabulous! Until next year....
Who do you think was best dressed at this year's Grammys? <3
Love, Emily :) xx