I will be the first to admit that I'm not the biggest film buff and there are plenty of timeless classics which I haven't watched and feel ashamed about the fact that everyone on Earth has watched them, yet I haven't, nevertheless, there are some movies which I am obsessed with.
My favourite movies are the ones which I have watched over and over again and could probably recite backwards to you, and I often choose to just watch them rather than bothering to look for something new to watch. Therefore, I thought I would share my top 10, favourite movies of all time with you in this post.
I'm no film critic, but I love finding out what other people's favourite films are so perhaps you will enjoy reading about mine! Let me know if we have any of the same!
LOVE ACTUALLY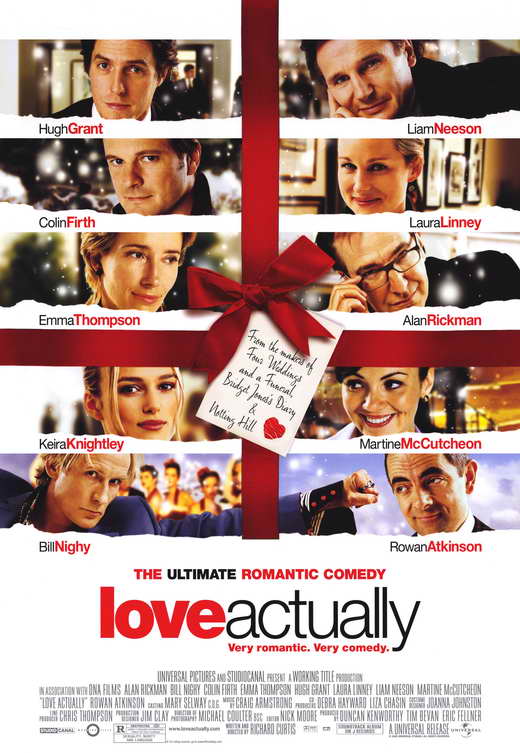 This is my favourite movie of all time, absolute top of my list and, despite being set during the Christmas period, I watch it all year round as you become so invested in the characters and their stories that you don't even think of it as a festive film. The movie tells the love stories of many people, including the Prime Minister and his assistant, a British guy who travels to America thinking his accent will find him love, a best friend who is besotted with his mate's wife and a writer and his housekeeper who don't speak the same language. The movie follows their relationships and all the drama they encounter during the build up to Christmas but is also an incredibly funny film with some really heartwarming moments, which is guaranteed to leave you wanting to know what happens to all the couples in the end. Definitely one I would recommend to anyone!
THE CALL
I discovered this film courtesy of Mark Ferris, a YouTuber who you may know who made a video on his favourite films. He described it in a short and snappy way, without giving too much away, intriguing me and making me want to watch it, so that is what I shall do for you. I'm not one for horrors but am starting to get into thrillers, as I love a good mystery and movies with elements of "will they or won't they?" Despite only watching this recently, I have decided that this is definitely one of my favourite films of all time, as I have never watched something so gripping which has me standing on my bed with my jaw wide open the whole way through. The film tells the story of a 911 call centre operator who answers the call of a girl kidnapped in a car and the movie is basically, mostly, the story of her trying to help the teen escape. But, there are twists, many moments of suspense and moments which will make you jump. Trust me, this isn't a film you want to put off watching. Plus, if the fact that you will get to see Halle Berry being an absolute boss lady isn't a good enough reason for you to watch this film, I don't know what is.
BRIDGET JONES'S DIARY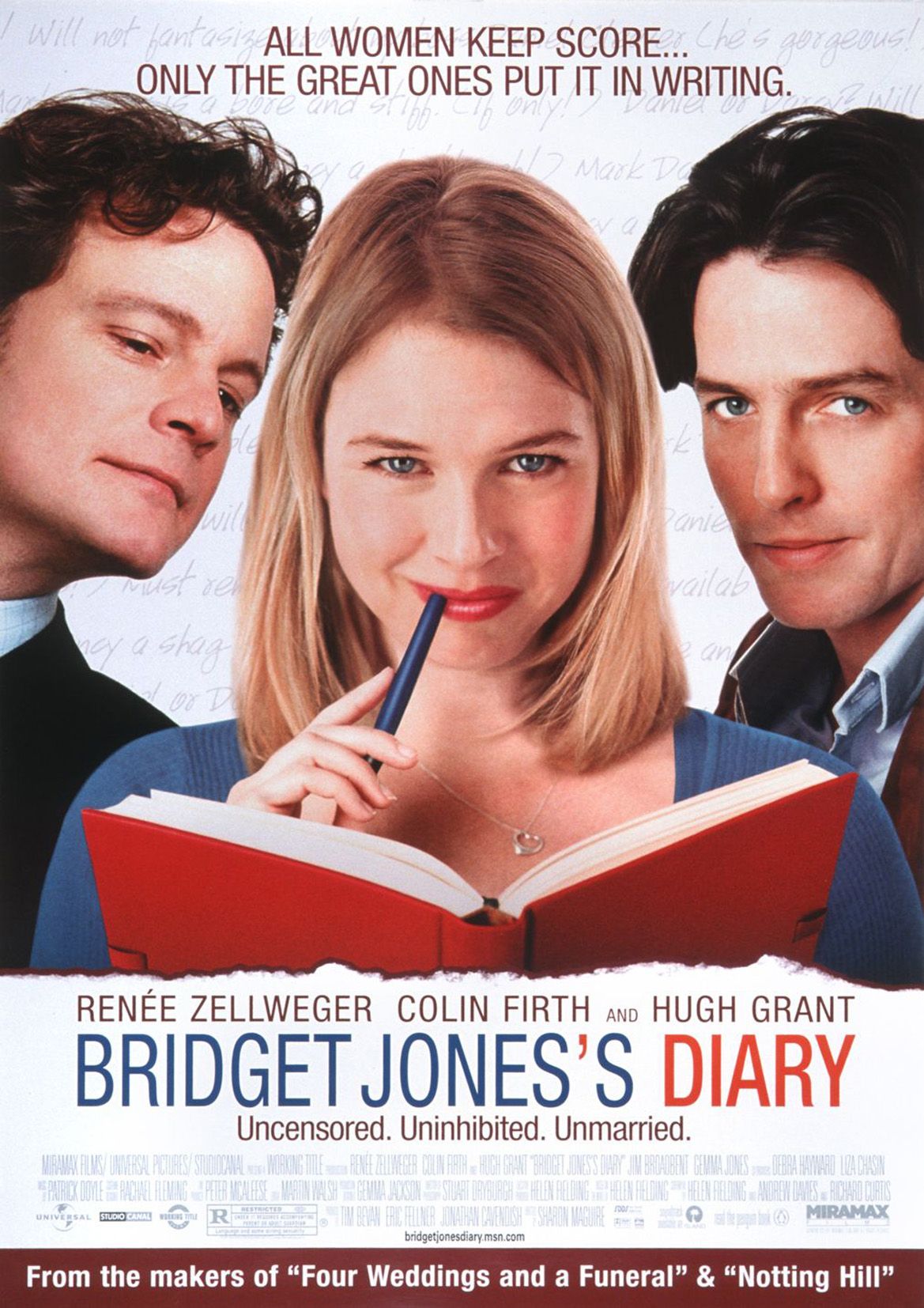 Ahh good old Bridget! Who doesn't love her? I love both Bridget Jones movies, but the first one will always hold a special place in my heart and I almost fainted with excitement when I watched the trailer for the third one! Bridget Jones's Diary tells the tale of an average woman in her thirties, struggling with her weight, her lack of a man, her job and family dramas, who decides to start keeping a diary, in which she will tell the whole truth, as part of a New Year's resolution and in a bid to take control of her life. We then get to witness the chemistry between Bridget and her boss and a family friend who she happens to keep running in to. Plus, there are some right hilarious moments, especially as Bridget has some rather eccentric friends and is so relatable, it's actually scary. Bridget Jones is the woman everyone needs in their life and, if you're ever feeling like your own life isn't going too well, just watch this and you'll be thankful it isn't going the way her's is.
ONE DIRECTION: THIS IS US
To say I am a massive One Direction fan would be an understatement, so, of course, this movie had to be included. This Is Us allows you a glimpse into the life of One Direction, taking you to their concerts during the Take Me Home Tour, backstage, into their dressing rooms and even into their family homes. Plus, there is a ton of exclusive footage and interviews in this film. I think the reason why I love this film so much is, not just because it stars my favourite people who make me laugh so hard every time I watch it, but because it was made during, what I like to call the 'peak' of their career, a really happy time for the band when everything was going swimmingly and there was a lot less animosity and drama within the fandom. Its like a little piece of One Direction history frozen in time and I think that is really special. Even if you aren't a 1D fan, watch this and you shall be converted.
17 AGAIN
Zac Efron is one of my favourite actors, especially in his old school films, and I feel like 17 Again can be watched and loved by anyone. It tells the story of middle aged Mike O'Donnell, single, unemployed and unhappy who, when asked by the janitor upon returning to his old high school, the place where he was happiest, would he like to be 17 again, he answers yes. Then, one night, after taking a tumble off a bridge, he wakes up being exactly that, 17 again, and has the opportunity to get back the life he threw away. It doesn't all go smoothly, however, leading to some hilarious moments and also some emotional ones too. Definitely would recommend, even if its just to see Zac Efron getting out of his car in a leather jacket, white t-shirt and pair of sunglasses.
BRIDE WARS
An underrated film, in my opinion. My Mum and I purchased this on a bit of a whim a while back, not really expecting too much, but ended up loving it. Bride Wars follows Liv and Emma, best friends since they were tiny and who have spent their lives planning their dream weddings. When both end up getting engaged at the same time and arrange to wed at the same venue which they have both lusted after since childhood, things couldn't seem to be going better, that is until a mix-up with the venue and the dates turns the two BFFs into enemies, who will do anything to sabotage the other girl's day. Bride Wars is a funny film and you're bound to see yourself in either Liv or Emma.
MAMA MIA!
If you're after the ultimate feel good film, then this is it. Living on a beautiful Greek island, a young woman, played by the even more beautiful Amanda Seyfried, discovers that any one of three men could be her father and so invites them all to her wedding, without telling her Mother (Meryl Streep) in the hope that she will know who her Dad is as soon as she meets him. The film follows the build up to the wedding and all the chaos that comes with it and the plot serves as a background for a bunch of classic ABBA songs, which bring the movie to life and are certain to get you singing along. If you're ever having a down day or just fancy a party around your living room, stick this bad boy on!
BANDSLAM
A film targeted at a younger audience but one which my parents both loved too and, personally, I reckon anyone of any age can watch it, particularly as it features some very relatable characters and situations. Bandslam introduces us to high school student Will, an outcast with a tough upbringing who has never really fitted in. He meets Charlotte, whom he forms and unlikely bond with through their love of music, and winds up becoming the manager of her band and helps them prepare for the ultimate battle of the bands competition. He also connects with Sa5m (the amazing Vanessa Hudgens) and, as the film progresses, we learn more about Will's past and become involved in the drama that occurs simply because he's trying to make his band the best it can be. Bandslam also has some great music in it!
NOTTING HILL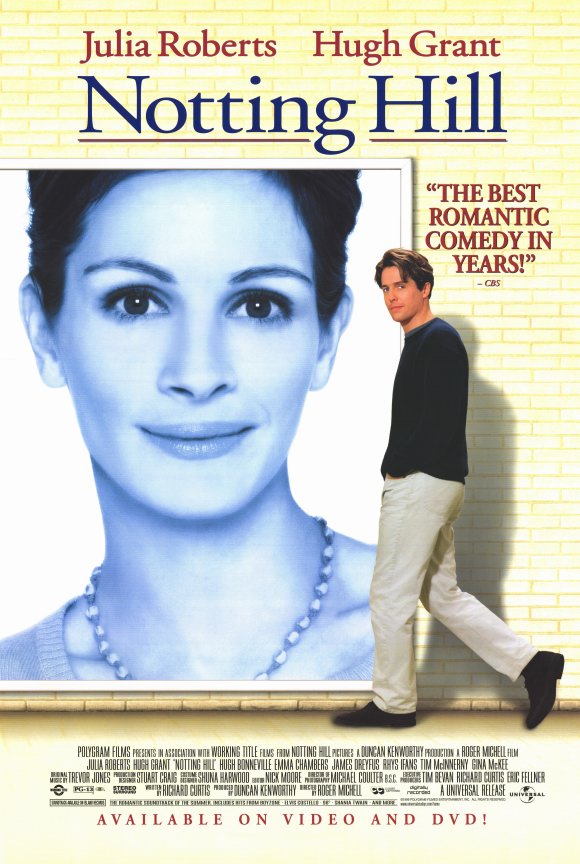 Quite a few of my favourite films star either Colin Firth or, like in Notting Hill, Hugh Grant, as they are my favourite actors and I struggle to hate a movie they star in. No prizes for guessing where Notting Hill is set. This film tells the story of an ordinary bookstore owner who becomes romantically involved with a famous actress, two people from two very different worlds who simply met by chance. However, dating the world's most wanted woman does not come without its complications, especially when every journalist, photographer, even relative and friend, want a peek into your private life. I love a romantic comedy and this is without doubt, one of the best I have seen.
BLACK SWAN
As previously mentioned, I'm not one for horror, but Black Swan is one of the most beautifully thrilling masterpieces I have ever come across. Mila Kunis and Natalie Portman are two big names who star in this film and their acting is second to none. The film can be difficult to follow sometimes but its one which you really need to get inside of and allow it to take your mind places. It tells the tale of a ballerina, Nina, whose life is utterly consumed by dance and whose Mother exerts suffocating control over her, almost becoming obsessed as she lives her former ballerina life through her daughter. Nina is chosen to star in the production of Swan Lake, but has competition in the form of Lily. The artistic director requires a dancer who can fill both the role of the innocent, graceful white swan and the devious, sensual black swan, yet it just so happens that Nina is perfectly suited to the role of the white swan, whereas Lily is the black swan personified. This leads to the two forming a dark, twisted friendship and, as Nina becomes more in touch with her dark side, she also descends into madness which threatens to destroy her and we get to witness how constantly striving for perfection can cause you to struggle to maintain your sanity.
Those were my top 10 movies of all time! Let me know if you have seen any of them and I would love to know if we share a similar taste in films!
What are your favourite movies of all time? <3
Love, Emily :) xx